STAGE THÉÂTRE : RIRE ET FAIRE RIRE - C'EST UNE HISTOIRE SÉRIEUSE !
Cultural , Theatre at Béziers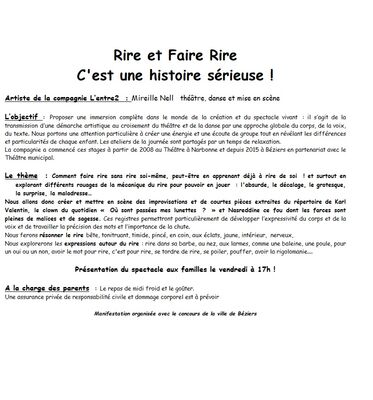 compagnie l'entre2
Stage à destination des enfants de 7 à12 ans.
Proposé par la Compagnie L'entre2.

Comment faire rire sans rire soi-même, peut-être en apprenant déjà à rire de soi ! et surtout en explorant différents rouages de la mécanique du rire pour pouvoir en jouer : l'absurde, le décalage, le grotesque, la surprise, la maladresse…
Nous allons donc créer et mettre en scène des improvisations et de courtes pièces extraites du répertoire de Karl Valentin, le clown du quotidien « Où sont passées mes lunettes ? » et Nasreddine ce fou dont les farces sont pleines de malices et de sagesse.
Ces registres permettront particulièrement de développer l'expressivité du corps et de la voix et de travailler la précision des mots et l'importance de la chute.
Nous ferons résonner le rire bête, tonitruant, timide, pincé, en coin, aux éclats, jaune, intérieur, nerveux,
Nous explorerons les expressions autour du rire : rire dans sa barbe, au nez, aux larmes, comme une baleine, une poule, pour un oui ou un non, avoir le mot pour rire, c'est pour rire, se tordre de rire, se poiler, pouffer, avoir la rigolomanie....

Présentation du spectacle aux familles le vendredi à 17h !
From

October 29, 2018




until

November 2, 2018
Leave a review about Stage Théâtre : Rire Et Faire Rire - C'est Une Histoire Sérieuse ! :
Horrible

Bad

Average

Good

Excellent
There is no review about Stage Théâtre : Rire Et Faire Rire - C'est Une Histoire Sérieuse !, be the first to leave one !