STAGE D'ÉTÉ BASKET BALL NBA
Sports and recreation at Sauvian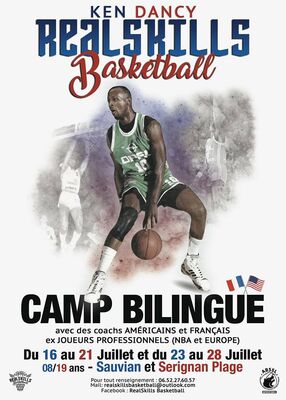 Fort de son expérience d'entraîneur et de grand joueur professionnel, Ken DANCY vous accueille au sein du camps Real Skills Basket Ball.
Les enfants de 7 à 19 ans bénéficient d'un encadrement de première qualité "with a touch of USA"- le camps étant bilingue, avec des coach américains et français.

Regroupés par âge et par niveau, les stagiaires profitent de l'expérience des coaches pour perfectionner toutes les bases du basket : tirs, passes, dribbles, appuis , rebond, défense, un-contre-un, jeu collectif, jeu rapide, physique, vision, intelligence de jeu.
Chaque journée est ponctuée par de grands concours avec des récompenses et par de grands matches 5-contre-5 tout terrain.

A la fin de chaque semaine, le All-Star Game regroupe les meilleurs stagiaires de la semaine.

Puis, l'un des moments les polus attendu est la remise des récompenses individuelles : concours, meilleur joueur, meilleure progression, MVP du All-Star Game, etc.
Schedules

From

July 16, 2018

until

July 21, 2018

From

July 23, 2018

until

July 28, 2018
Leave a review about Stage D'été Basket Ball Nba :
Horrible

Bad

Average

Good

Excellent
There is no review about Stage D'été Basket Ball Nba, be the first to leave one !