EXPOSITION DE IO BURGARD. "LA BÊTE DANS LA JUNGLE"
Cultural , Sculpture , Exhibition at Sérignan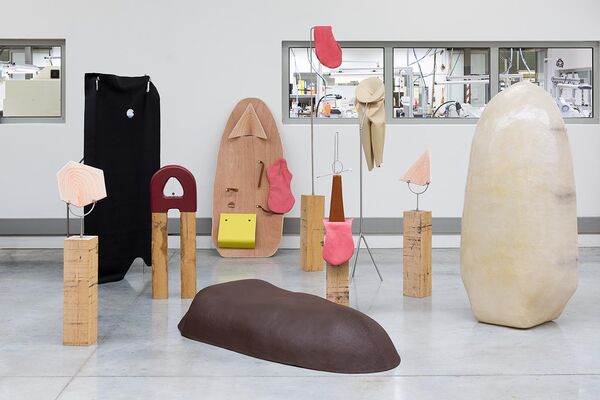 Il y a chez Io Burgard cette envie de faire sortir ces fantasmes du papier pour les faire exister dans le monde réel, comme une invitation discrète mais obstinée à ce que tous les méandres de son imaginaire puissent trouver une matérialisation concrète. Le dessin donne une première forme de projection et offre une toile de fond pour échafauder des mécanismes. Il en sort une substance, elle s'incarne dans le réel invitant la fiction dans le champ du possible. Les motifs de portes, de ponts, récurrents dans le travail, symbolisent ce passage d'un état à un autre, d'une fonction à une autre, d'une forme à une autre, et rendent palpable la dynamique de la pensée.

Son travail de dessin associe des motifs abstraits et figuratifs, autant de formes énigmatiques qui ont un lien non seulement avec le corps mais aussi avec des mécanismes à l'aspect rudimentaire, comme autant d'outils qui viendraient soutenir et approfondir le travail de la main. Le mouvement, la chute, la pesanteur, tous ces éléments suggèrent en effet le corps, un corps souvent élastique, parfois érotique, un corps étirable, modifiable, en mutation constante, qui vient révéler chez l'artiste une réjouissante plasticité des formes autant que des idées.

Le titre de son exposition au Mrac, La Bête dans la jungle, est emprunté à une nouvelle d'Henri James de 1903, dans laquelle un homme, persuadé d'être promis à un destin tout à la fois exceptionnel et inquiétant, passe à côté de sa vie et de l'amour, dans l'attente obsessionnelle de la bête dans la jungle qu'il ne rencontrera jamais. Métaphore de cette difficulté de l'homme à vivre ses rêves dans le réel, la nouvelle de James est activée par Io Burgard pour son pouvoir d'évocation, c'est un « outil narratif » comme elle le définit elle-même, qui lui permet de concevoir un ensemble de dessins et sculptures qui évoqueront un parcours. Un parcours à travers des fresques et des bas-reliefs où le hors-champ guette et ne se fait attraper que par l'image de l'attente. Les murs en bas-relief offrent un cadre au passe-temps, un décor d'une latence qui cherche à s'incarner.
Schedules

From

April 7, 2018

until

September 16, 2018
Leave a review about Exposition De Io Burgard. "la Bête Dans La Jungle" :
Horrible

Bad

Average

Good

Excellent
There is no review about Exposition De Io Burgard. "la Bête Dans La Jungle", be the first to leave one !