ATELIER : QUELLES SONT VOS VALEURS ?
Cultural , Historic at Boujan-sur-Libron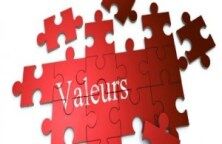 Paul Fontaine et Cory Estournet
Découvrez ou approfondissez vos valeurs au cours de cet atelier de développement personnel d'une durée de 3h00 animé par Cory Estournet et Paul Fontaine.
Cory ESTOURNET et Paul FONTAINE, en couple dans la vie, sont tous les deux coachs certifiés en neurosciences appliquées.

👩Fondatrice de la méthode "C VRAI" : Arrêter de mentir en 5 étapes, elle est spécialiste du retour à l'authenticité.

👨Lui, accompagne les fous qui croient en leurs rêves. Il est expert en acceptation du handicap et dépassement de soi. Il donne des conférences en entreprise : L'intégrité pour doper votre chiffre d'affaire.


Connaitre ses valeurs c'est :
✅Affirmer son identité
✅Augmenter sa confiance en soi
✅Comprendre une émotion désagréable (colère, tristesse...)
✅Désamorcer et résoudre un conflit
✅Se challenger au quotidien
✅Préparer un entretien d'embauche
✅Elever son niveau de bonheur et réussir sa vie

Offrez-vous cette chance !

Nous vous accueillons à partir de 8h30 en petit groupe (maximum 5 personnes) à notre domicile à Boujan-Sur-Libron autour d'un petit déjeuner chaleureux (🥐☕🍵...)

Pour toute place achetée, nous vous offrons :
🎁 Un coaching ONE SHOT de 2h offert (valeur initiale 187€).
2h pour éclaircir une situation ou faire un bilan sur un sujet qui vous préoccupe.
🎁 Une séance de coaching découverte de 45min pour le proche de votre choix.
Schedules

On

November 17, 2018

from 9:00 to 12:00
Leave a review about Atelier : Quelles Sont Vos Valeurs ? :
Horrible

Bad

Average

Good

Excellent
There is no review about Atelier : Quelles Sont Vos Valeurs ?, be the first to leave one !