ATELIER DE MÉDITATION
Nature and relaxation at Béziers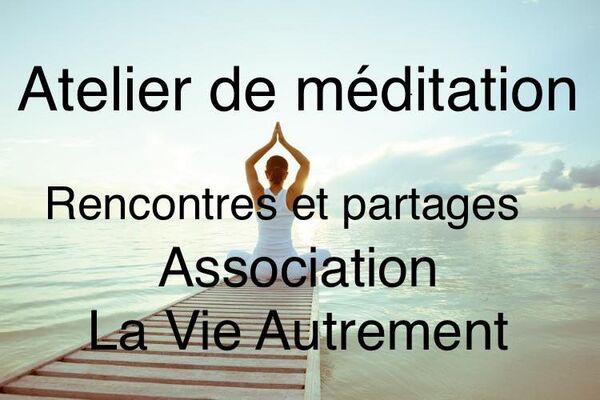 la vie autrement
Nous vous proposons de nous retrouver pour des ateliers mensuels de méditation, plus qu'une rencontre, nous vous proposons un véritable partage spirituel. les bienfaits de la méditation sont multiples, et la méditation en groupe accroît ces bienfaits.

Pourquoi méditer en groupe?
Pratiquer en groupe la méditation de Pleine Conscience procure plusieurs bénéfices. La méditation de Pleine Conscience en groupe agit d'abord et principalement comme un élément de soutien à la pratique individuelle des participants.

En plus d'offrir un environnement propice à la concentration, la pratique collective formelle procure également les conditions favorables au maintien d'une pratique de méditation saine et vivante. Méditer aux côtés d'autres méditants permet à chacun de bénéficier de l'expérience d'autrui et de se soutenir mutuellement dans sa démarche personnelle de paix intérieure et de mieux-être.

Chacun des participants du groupe pratique la méditation de Pleine Conscience en vue d'un but commun : s'entraîner à calmer son esprit, à se libérer du stress et de l'anxiété, et cultiver la paix intérieure. L'énergie du groupe devient alors un précieux support qui guide les participants, et les aide à surmonter les difficultés qu'ils rencontrent dans leur pratique de Pleine Conscience.

Pratiquer ensemble l'art de vivre en Pleine Conscience représente un soutien inestimable pour nourrir et maintenir la pratique individuelle de chacun.

La méditation n'est pas une technique de décontraction ou de bien-être, c'est revenir à notre profonde nature.

L'origine de toute souffrance est notre ignorance fondamentale sur qui nous sommes réellement. C'était le constat – toujours d'actualité – du Bouddha originel il y a 2500 ans dans ses « Quatre Nobles Vérités », mais aussi celui de la plupart des traditions spirituelles avec leur propre vocabulaire.

Méditer, c'est expérimenter vraiment pour comprendre, non pas avec sa tête, mais avec son être entier que ce que nous sommes est déjà ce que nous recherchons à travers notre « quête du bonheur ».

L'atelier est ouvert à toute personne intéressée par cette recherche intérieure, méditant confirmé ou débutant. Ce n'est pas un cours mais un partage d'expériences, un laboratoire du moment présent.

Apporter un petit coussin (on peut aussi pratiquer sur chaise ou couché suivant les cas…) et prévoir des vêtements souples.
Cet atelier collectif aura lieu tous les derniers vendredis du mois.
Schedules

On

October 26, 2018

from 18:30 to 20:30

On

November 30, 2018

from 18:30 to 20:30

On

December 28, 2018

from 18:30 to 20:30

On

January 25, 2019

from 18:30 to 20:30

On

February 22, 2019

from 18:30 to 20:30

On

March 29, 2019

from 18:30 to 20:30

On

April 26, 2019

from 18:30 to 20:30
Leave a review about Atelier De Méditation :
Horrible

Bad

Average

Good

Excellent
There is no review about Atelier De Méditation, be the first to leave one !